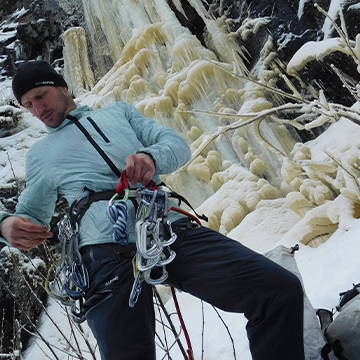 About
My childhood was in Sacramento, California. My parents moved me to the Midwest in my teenage years. I met my now wife in high school and I followed her to Duluth, Minnesota. Adapting to long and cold winters, I found myself searching for new hobbies beyond skateboarding and BMX/Motocross racing. A trip to the Colorado Rockies with friends is where my passion for alpine, ice, and mixed climbing began.  
Pursuits
Before the events of 2020, I was establishing new ice/mixed routes in Nipigon, Ontario. My local project has been equipping 5 routes in an old train tunnel right here in Duluth. In the last few years, I have fallen in love with hard ice/mixed lines of the Canadian Rockies.  
favorite places
Nipigon, Ontario is my stomping grounds where you will find me most of the season. Casket Quarry here in Duluth is where you will find me training for bigger pursuits. 
goals for 2021
Since the Candian borders are closed, I'm headed to Utah the middle of February to climb with my good buddy Jon Jugenheimer. My goal for 2021 is to climb in the Ruth Gorge in Alaska.