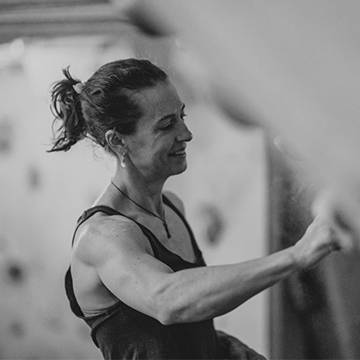 Becky Switzer
Bozeman, MT
About
I grew up in Wisconsin, mostly outside, splitting my time between climbing trees and kicking a soccer ball at my parent's garage door. I left the Midwest as soon as I could, and after a brief stint in the southeast, I followed work north and west, eventually landing in Bozeman. At the conclusion of my time as a collegiate athlete, I discovered rock climbing through my university's outdoor center, and climbing has been the driving force behind most of my life decisions since.
Pursuits
I'm currently on a quest to redpoint all the hardest rock climbs within an hour or two drive of Bozeman. Most are sandbags and at least two letter grades harder than their given grade. Also the rock can be horrendous and it's cold for nine months of the year. Although the rock in Wyoming and Idaho is just a tad bit farther away, it's worth every second of the longer drive.

I also enjoy backcountry skiing and ice climbing in the winter. Both give me the chance to stay active outside and I enjoy breaking up the monotony of indoor training during the winter.
favorite places
Around Bozeman there are numerous quality sport climbing crags. While none are well-known destination crags, they're great local options. If I'm trad climbing for the day, Gallatin Canyon is one of the best spots in the state. For ice climbing, it's obviously Hyalite Canyon—I'm lucky to have this venue so close to home.
If I'm searching for exceptional limestone for a long weekend of cragging, I'll travel to Ten Sleep, Wyoming or the Fins in Idaho. Finally, in the fall, there's no where else I'd rather be than in the Red River Gorge, Kentucky. 
goals for 2021
My goal for climbing is to always keep progressing, whether it be in strength, skill, knowledge, experience or a combination of those attributes. I'm also hopeful climbing festivals can happen again soon, as I enjoy connecting with folks and teaching clinics to help others progress in their own climbing.