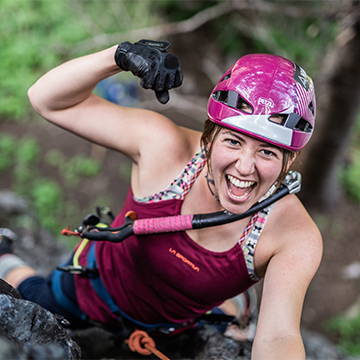 Katie Mckinstry
Bozeman, mT
About
I grew up in Boise, Idaho, riding horses. After a change in life path, I found climbing. I started with climbing glaciated peaks in Washington, which drove me to a path of wanting to climb waterfall ice to expand my mountain possibilities. After that first swing into some thin desert ice in southern Idaho, I was totally hooked.
Pursuits
My main pursuit right now is to keep climbing ice as much as possible and continue working on a calm mindset while leading. In the summer, when the ice is not around, I would love to continue dry-tooling, and keep getting stronger on steeper routes. When I am not climbing, I am working on my art business (@Hyalite_Designs) and trying to get that off the ground, along with going to school full time to be a Graphic Designer.
favorite places
If you're ever looking for me, I can most often be found in Hyalite Canyon here in Montana. Since the canyon is right in my backyard, I am usually there 4-5 times a week climbing and recreating.
goals for 2021
My goals for 2021 include leading Scepter here in Hyalite, I would love to get Liberty Ridge done on Mt Rainier- that one was on the list for 2020 but since COVID hit, we pushed it back a year. I would love to get as much art done as possible, I got invited to the Michigan Ice Fest to be the official artist of 2022, so I will be preparing for that over the summer. But the main goal this year is to continue leading routes and getting stronger mentally.