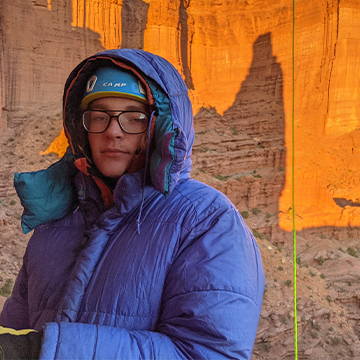 Luke Negley
Van life - Moab, Grand Junction, Vail
About
Grew up in a small town called Woodland Park in Colorado. Started climbing when I was around 15. Towards the end of high school I wasn't super stoked on going to college so I chose adventure and here we are! Spent a lot of time doing all sorts of different styles of climbing, but by far my favorite activity is bagging towers in the desert!
Pursuits
Currently working on an AMGA Rock Guide Certification, working a few days a week for local climbing shops, other than that just climbing!
favorite places
Favorite spots to climb currently are Provo Canyon, Escalante Canyon, Unaweep Canyon and the general Moab area.
goals for 2021
My goals for 2021 include climbing 100 towers, climbing 5.13 in the Creek, aid and mixed climbing more, and becoming a more well rounded climber.