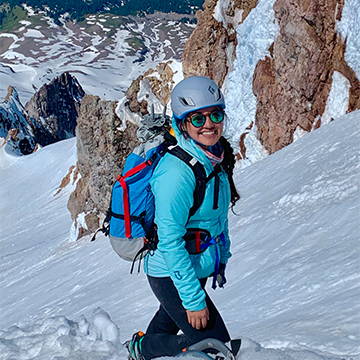 Theresa Silveyra
Portland, Or
About
Although I grew up in Southwest Washington, surrounded by Cascade volcanoes, outdoor recreation wasn't a priority in my family. Hiking, backpacking, trail running, and climbing have only been a part of my life for the past few years! Outside of personal adventures, I enjoy being an ambassador for the PNW Outdoor Women group and creating opportunities for women to connect and adventure outdoors together. As a Filipina-Mexican woman, I'm also excited to be joining the instructor team for Climbers of Color this season and getting more involved with their mountaineering leadership program for the BIPOC community.
Pursuits
Alpine climbing (rock and snow) and trail/ultra running, especially adventures that combine the two
favorite places
Mountains are always my favorite place to be. My favorite mountain is Wy'east (Mount Hood) and my favorite place is the North Cascades. You can most often find me on Wy'east, climbing or trail running or skiing.
goals for 2021
My primary goal this year is to hone my current skills so I can confidently mentor women of color interested in trying mountaineering and be a solid, effective instructor for Climbers of Color courses this summer. In addition, I recently launched a self-funded mountaineering gear scholarship for women of color this past December and would like to do this again in 2021. On a more personal note, I'd also like to get better at ice climbing.